I WON!!!

Exhibitor spotlight answers from our 2013 Overall Champion -- Jeanne Hugo

MMOHSC
1. How long have you been riding and how old were you when you got your first horse?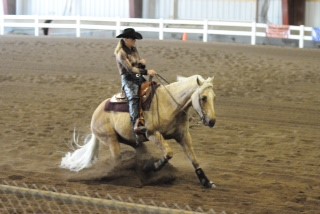 I wanted a horse my whole life and finally got one when I was 23. I knew nothing! Thank goodness for friends.
2. What disciplines do you ride? What is your favorite class?
I have dabbled in the speed events, pleasure events, dressage, jumping, trail and reining. My absolute favorite is reining but western riding is a close second.
3. Who/what person was the biggest influence on your riding career and why?
I have been associated with Leslie Gillespie- Darrow both in a Trainer/Client relationship and friendship for over 20 years. I have sent 9 horses to her at various ages for various types of training including a barrel horse, pleasure horses, and several reiners. She is an amazing trainer and I know my horses are safe and well cared for when in her training program. She is willing to help and motivate any level rider and treats everyone with respect and encouragement.
4. What is your job in the 'real world'?
My "real world" job (which allows me to have this amazing hobby) is working for Dow Chemical as the Global Industrial Hygiene Laboratory Technical manager. I graduated from SVSU with a chemistry degree and have been working for Dow for almost 28 years.
5. Family info (optional) spouse, children, etc.
I live in Linwood with my very amazing, very supportive husband of 29 years, Bill. We have two very wonderful children: Jason age 28 and Ashton age 22.
6. What is the best part of showing MMOHSC?
MMOHC is a great circuit. There are friendly people, good competition, and affordable and well-run shows. I have showed other circuits but always come back to MMOHC because this circuit is FUN and that is what counts.
7. Share with us one rewarding experience that you have had showing our circuit
When I was showing my horse this year a member of the circuit said to me " I remember when that horse was not so well behaved". This is the beauty of this circuit. I bring my young, green horses and do the novice classes to get them started; always with the encouragement and understanding (for those bad moments) of friends. As we progress and mature as a team the circuit provides a level of competition that continues to challenge and motivate. And eventually, when you do pull some firsts, you can count on friends for a pat on the back. HOW AWSOME IS THAT!
8. What have you won showing MMOHSC? The coolest prize?
I have been very lucky and very fortunate to win many amazing prizes from MMOHSC. My favorite was a year-end award quite a while back that was a wooden box containing a belt buckle. The belt buckle was absolutely beautiful but the most amazing thing was the circuit contacted the photographer and found a really nice picture of my horse and burned this into the box cover. It was such a surprise! I still have it sitting on my dresser.
9. What would you say to anyone considering joining MMOHSC?
MMOHSC is a family-friendly, affordable, quality horse how circuit. The shows are run efficiently, the people are friendly, the prizes are amazing, and the shows are FUN.